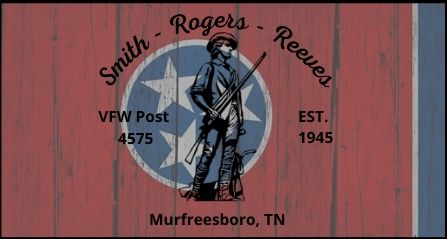 Because we are veterans…
We know the military is more than just some job. We also know the "real world" can be isolating and can lack a sense of purpose. That's why you should stand with us. We continue to look out for each other and to serve America. Best of all, we have fun doing it with people who understand us.
VFW Smith - Rogers - Reeves Post 4575, is the oldest VFW post in Murfreesboro, TN. We are made up of Veterans from Vietnam thru Operation Iraqi/ Enduring Freedom. We welcome all Veterans of the Murfreesboro area to come and join our ranks.
Did you know that there is a 8 Point Veteran's Creed that the VFW Helped to create:
The eight-point Veteran's Creed is:
I am an American Veteran

I proudly served my country

I live the values I learned in the military

I continue to serve my community, my country and my fellow veterans

I maintain my physical and mental discipline

I continue to lead and improve

I make a difference

I honor and remember my fallen comrades
Here is the link to the story about it on the
VFW Website
.
Go to the login in drop down click on Members Only
Use your member id number
And your last name is your password
Here is a new podcast that I am listing to. The host is a Student at MTSU and a Veteran click here to check out the podcast.
@VetWithAMic